The Beluga whale, with its distinctive bulbous head, is the inspiration for this modular, multi-mission UAV.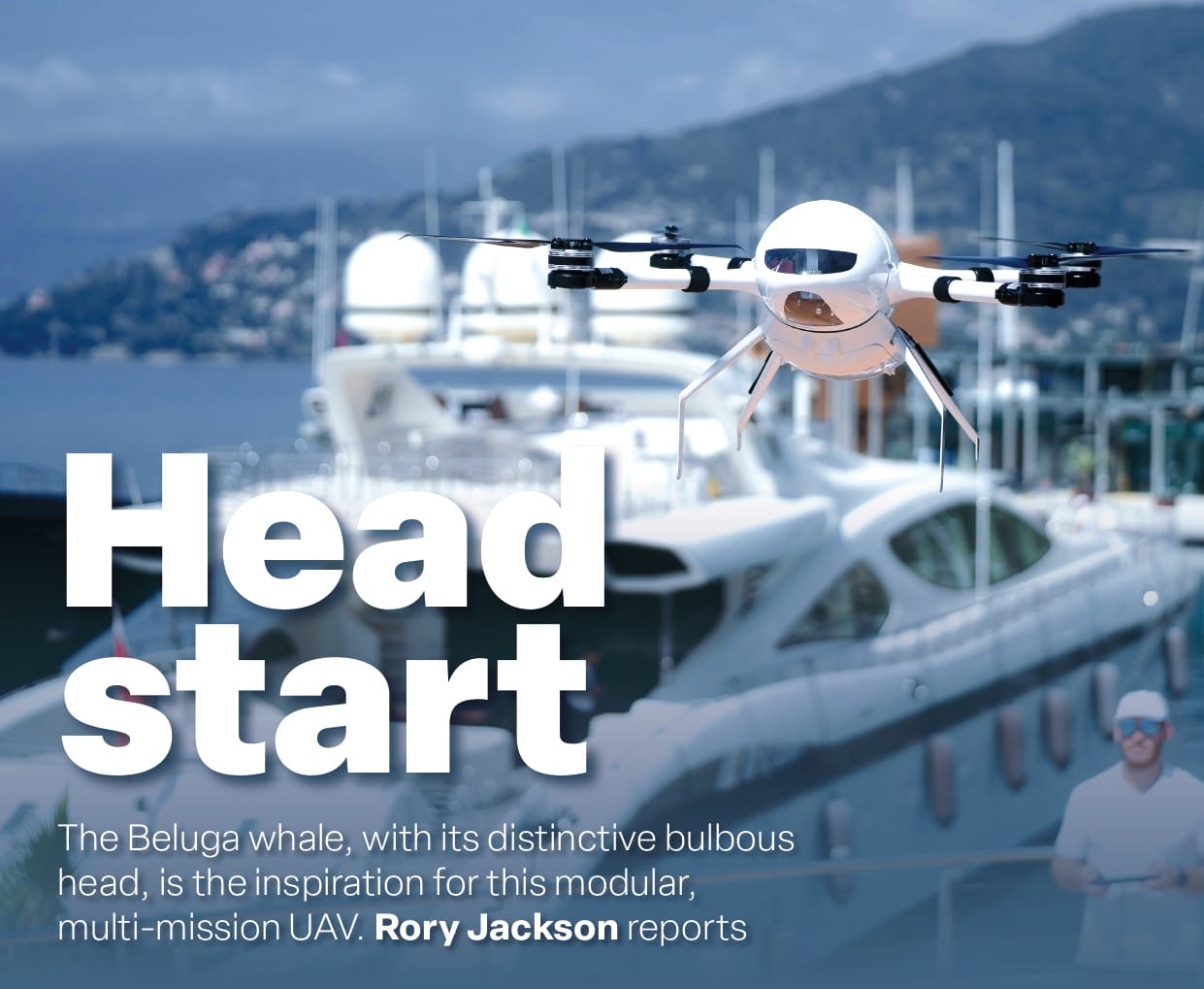 Since its founding in Rome, Italy, in 1994, Eurolink Systems has been known primarily as a value-added distributor and integrator of mission-critical electronics for defence applications. Its customers include companies such as Leonardo, MBDA and Elettronica Group, along with other defence firms such as Thales.
In recent years it has also been drawing attention for its growing range of uncrewed vehicles that undertake missions across land and in the air, by reselling other companies' systems and developing autonomous solutions in-house. As well as drawing on its own electronics r&d, including expertise in DSPs, GPUs, FPGAs, CPUs and power management boards, Eurolink has also worked with universities on r&d into advanced fluid dynamics, AI and other areas.
This combination of skills has been key to developing the Beluga UAV, Eurolink's signature quadrotor craft for modular, multi-mission applications. The Beluga measures 980 x 630 x 450 mm, has a 10 kg MTOW (with 3 kg maximum payload), and an endurance of up to 60 minutes when carrying 1.5 kg of payload. Power comes from a 3.8 kg lithium-ion battery with 1 kWh of energy capacity.
The craft is notable for its distinctive hull shape, as it closely resembles a Beluga whale. While this provides some aesthetic appeal, the unique shape is a result of Eurolink's approach to enhancing the UAV through bio-inspired aerodynamics.
Development timeline
Before starting development of the Beluga, Eurolink had established itself as a supplier to European militaries of US-manufactured electronics from numerous companies. That won it a contract in 2011 with the Carabinieri, one of Italy's main law enforcement agencies, and which carries out primarily domestic and foreign policing duties.
After that, it agreed partnerships with several uncrewed systems companies, such as Slovenian UAS manufacturer C-Astral Aerospace (see UST 11, December 2016/January 2017), to distribute its Bramor and Atlas UAVs; this agreement has been extended to include sales of C-Astral's new SQA eVTOL UAV. Another deal is with Edge Autonomy, which makes the Penguin series of UAVs (UST 1, November 2014 and UST 33, August/September 2020). "Soon after becoming a UAV reseller, we started some work of our own in robotics, developing UGVs for counter-IED work by the Italian army in Afghanistan," says Pietro Lapiana, president of Eurolink Systems.
"The idea to create our own UAVs came 3 years ago, when we observed in the market that although there were thousands of drones being used around the world, most of them were essentially just bricks with arms. Add to that all their surrounding electronics, antennas and so on, and you find that many drones are rather inefficient aerodynamically." As luck would have it, about a year ago a northern European military customer approached Eurolink with a request for a UAV capable of airspeeds of more than 100 kph and autonomous take-off and landing, for delivering blood for operating theatres potentially only 2-3 km from the front line. Another request was a flight endurance of an hour while carrying 1.5 kg of blood.
These provided Eurolink with a number of key specs that it needed to take from the concept stage through to prototyping. "As far as physical design points went, our first decision was not to use any Chinese or hobbyist components," Lapiana says. "If the customer came specifically to us for an OEM UAV, it meant they were after high-end, mission-critical components, not anything cheap or that they could find elsewhere.
"Also, if the customer wanted high speeds, the UAV had to be aerodynamic, so since we were starting from a blank sheet, we didn't want to spend ages on a ground-up education in fluid dynamics. We therefore decided to go straight to studying Mother Nature, who has had millions of years to optimise and streamline animal shapes." At around this time, Lapiana and his team observed that Airbus was working on its A330-743L BelugaXL aircraft, a Beluga whale-shaped fixed-wing transport aircraft developed to replace the similarly biomimetic A300-600ST Super Transporter, and took inspiration from the concept.
In Eurolink's eyes, the Beluga whale shape had the advantages of a big frontal head for easy storage of avionics, batteries and other parts, as well as a highly fluid dynamic nature by virtue of evolving to swim adeptly in water at different speeds.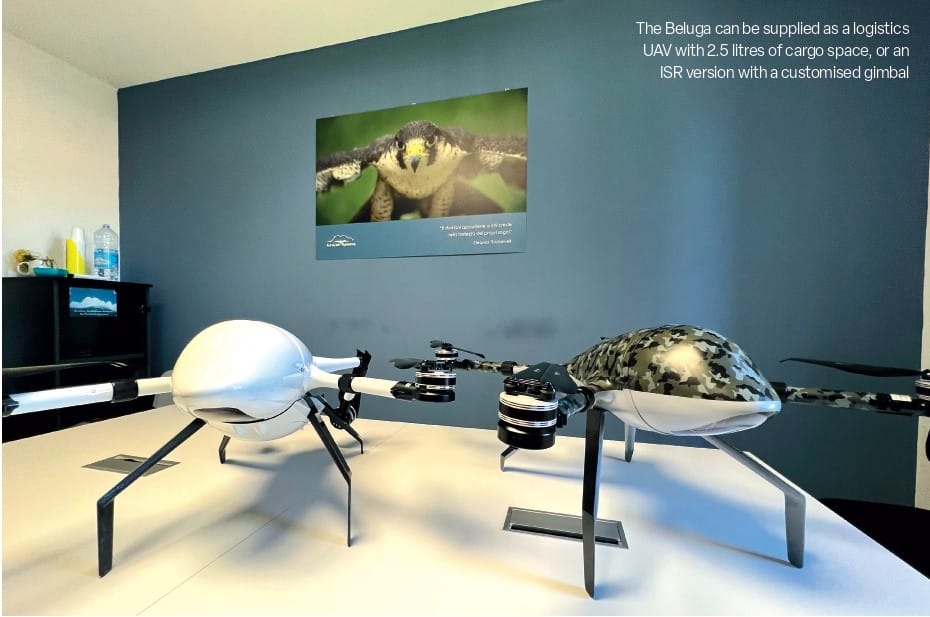 Species of Beluga
The Beluga UAVs can be divided into two broad groups depending on the general application they are designed for: logistics or ISR. For the former, a 2.5 litre cargo bay is attached to the bottom of the body, or an optional, larger undercarriage system with 14 litres can be installed instead. In the latter, a custom-engineered gimbal is installed with a suite of sensors matching the customer's mission needs.
Some commonalities exist between the UAV's variants. Each is an all-electric quadcopter designed to be capable of fully autonomous operations and coordinated swarm tasks. Also, an 8 MP MIPI CSI-2 tiltable FPV navigational camera is installed inside the nose (behind a transparent window) for vision-based AI tasks, with up to 4K UHD (3840 x 2160) resolution. Video and other data is processed on board through a CPU and GPU (as well as any additional, modular companion processor boards that have been requested). These are all integrated in an avionics compartment.
Lapiana notes though that a version of the Beluga with two HD cameras installed in stereo is also now available. Meanwhile, a wide range of gimbals and payloads are available for the ISR version, and Eurolink can customise the system to specific customer needs for special sensors. "The onboard electronics allow a wide suite of AI algorithms for obstacle avoidance and other advanced features," says Enrico Remiddi, chief strategy officer at Eurolink. "And the use of common military interfaces for Ethernet, power, serial comms and other standards throughout the architecture allow fast and easy mounting of boards. "This modularity allows the use of some common components between our UGVs and UAVs. That simplifies the maintenance and logistics for many of our users, particularly in defence and security where they often need to get their system back out and on its next mission within a few minutes." Either civil or military transponders can be installed, with Modes A, C and S available, along with internal altitude sensors or encoders, Extended Squitter, and compliance with DO-178C Level C, DO254 Level C, DO-160G and other standards. Different tracking antenna ranges are offered as well, from one with a 21 km range to omnidirectional two-axis antennas with an effective range of 35 or 50 km.
For different ISR mission sets, a wide array of different camera gimbals can be supplied and pre-installed, from a 140 g EO system with a 40x optical zoom and 2x digital zoom, to an EO/IR gimbal with a 30x optical zoom, 16x digital zoom and a laser rangefinder, for a total weight of 1500 g. Numerous other standalone sensors can also be installed, including Lidars, hyperspectral cameras, gas detection sensors and CBRN meters. Naturally, if users are satisfied with less than 60 minutes of flight time, they can install more than 1.5 kg of payload sensors. If more computing power is needed than that offered by the GPU, Eurolink can also turn to the modularity inherent in the Beluga's design by installing additional companion computers, be they GPUs, CPUs or FPGAs.
Aerodynamics through biomimicry
Explaining the UAV's design principles, Lapiana says. "We started with the Beluga whale's shape, before making it more aerodynamic in CAD, giving us more energy efficiency, speed and beauty." That lattermost quality is a widely known Italian engineering philosophy.
Belugas move through water by oscillating or 'bobbing' up and down, and in the UAV the quadrotors oscillate in a similar way during flight, pitching downwards to accelerate forwards. The UAV's shape therefore helps it reach its 112 kph top speed without needing tiltrotors, a pusher propeller or other features typical of VTOLtransitioning fixed-wing UAVs.
Notably, the hull is also tested and validated to withstand a range of environmental conditions, to suit the harsh operating theatres that military and emergency service members need to be able to fly it in. In addition to having trialled the Beluga in sustained flights at 6000 m above sea level, it has also been tested in temperatures from -25 to +50 oC. It is also designed to meet the IP67 rating for protection against moisture ingress, not only for withstanding rain but to enable landing on (and take-off from) water, by using O-rings and plastic gaskets at potential ingress points. Eurolink has also designed optional floats to keep any payloads above the water line. These extend the Beluga's ability to take off and land on rough seas as well.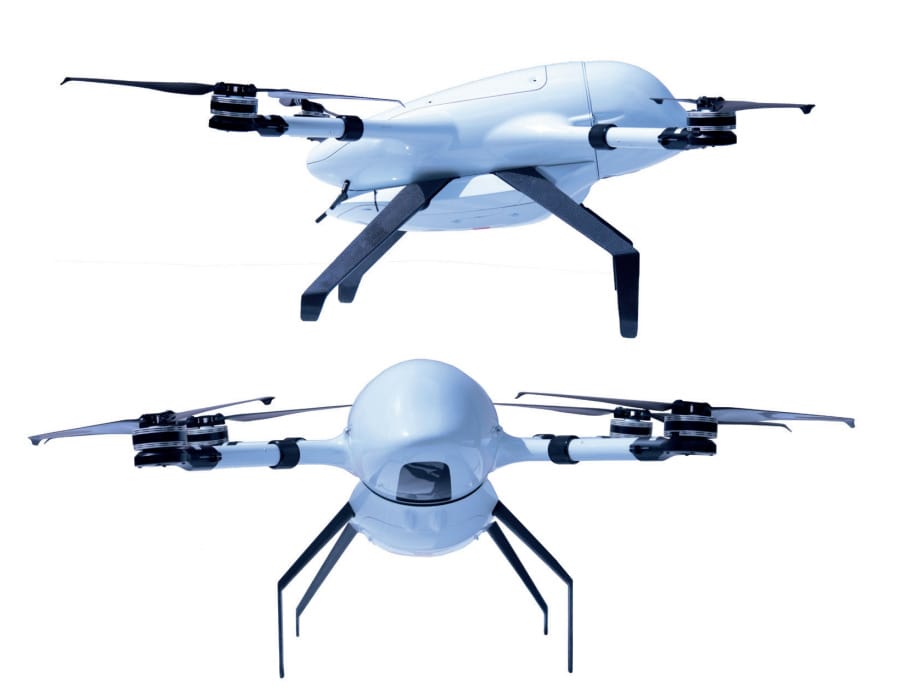 Noise reduction
Eurolink has sought to minimise the UAV's noise output, for the sake of greater stealth in military operations and practicality reasons in urban airspace integration. "If you consider the growth in urban air mobility and the markets for autonomous drone deliveries and logistics, then humans might soon have hundreds of drones flying over their heads regularly, which will create immense noise pollution," Lapiana notes.
"But the type of noise and its effects are even more important. The US FAA has found that the noise of a helicopter is not overly disruptive, in the sense that people are generally used to the sound and don't always stop what they're doing to look up – at least when the helicopter is at high altitude. But the same sound level from a drone is unfamiliar, so it distracts people and disrupts their behaviour, hence the propensity for accidents or at least complaints."
Additionally, and strange as it might sound, Eurolink has found through researching such reports that the spectral density of most multi-rotors' noise output is profoundly upsetting to dogs. As such, greater noise generation from UAVs over urban areas is almost guaranteed to trigger secondary waves of noise from them, creating a nuisance. To show a potential workaround, Eurolink therefore worked with Niccolo Cusano University (Unicusano) in Rome to again draw on lessons from nature, this time to find a quieter way to fly.
"It is well-known that owls are highly successful night hunters, despite that being the quieter part of each day. They are effective because their wings and feathers produce low noise," Lapiana explains. "Unicusano has a very good drone laboratory, and has built up a lot of experience and talent with drones over the past several years," he adds. "They also conduct UAV experiments with primary international aerospace manufacturers. "So with the university's help, we decided to try to duplicate this, to make a digital twin of an owl's wing or feather so that we could simulate, calculate and extrapolate how to achieve the same low-noise qualities in the physical shape of a drone's propeller."
Unicusano had done some virtual evaluations along these lines before, and after a fresh range of softwarebased studies for Eurolink, some prototypes were built and tested in the university's wind tunnel. The results were almost identical to those predicted in simulations. Eurolink continues to work with Unicusano for laser sintering and cutting its low-noise propellers in series production, although carbon fibre propellers are still offered as standard for customers who aren't flying near populated areas.
"As a result, we achieved a reduction in noise from the propellers in flight at 250 ft in height, as requested by the FAA, of around 8-9 dB compared with the ones we had previously used," Lapiana says. "We also tested our noise output versus that of the smaller 7.5 kg DJI Matrice 300 UAV, and we were producing one-ninth the noise of it. "It took a lot of work, but given that all our experience was in avionics, robotics and AI, and none in aerodynamics, we didn't want to leave this critical aspect of UAV engineering to chance, or to try some exhausting trial-and-error approach."
Eurolink AI
Given Eurolink's decision to avoid hobbyist or Chinese-made components, its selection of avionics and computer systems tends to be skewed to the West. However, the Beluga has been designed to suit users worldwide, so the company emphasises that there is no one best autopilot or comms system; it opts for the most suitable for a specific market, application or airworthiness requirements or rules.
After testing and approving what it saw as the most state-of-the-art autopilots on the market, and the most capable of supporting the Beluga in the long term, the George autopilot from uAvionix has become one of its most frequently used flight controllers. The George is built around a Cube (from Cubepilot). Two George models are currently available, the G2 and G3. The G2 weighs 68 g, has nine servo/ ESC interfaces (and two CAN interfaces), and incorporates uAvionix's microLink 2 x 2 MIMO BVLOS C2 radio and pingRXpro dual-band ADS-B receiver. The G3 weighs 99 g, has one CAN port and 12 servo/ESC ports, with additional serial and ADC inputs to enable external ADS-B, GNSS, and comms options.
Both systems consume power at a nominal rate of 2.5 W, and are validated to operate from -10 to +55 oC. Eurolink also says autopilots from MicroPilot and Embention have been used in the Beluga, and that for each proposed solution, Eurolink's background in military avionics enables it to take the lead on managing the configuration and life cycle for the UAV's flight controllers.
In addition to obstacle recognition and avoidance, facial recognition and hand and voice command are among the AI capabilities developed and installed by Eurolink on the Beluga's GPUs. "We can use different GPUs, and indeed more than one GPU if necessary," Lapiana says. "Part of the reason we designed our system with modular interfaces is because the GPU industry has such a strong tendency to evolve and iterate its products so quickly. "AMD, Xilinx and many others are releasing a new processor every 15- 16 months, and users in the military and emergency services need a drone that's always at the peak of processing capabilities. So they need us to be able to install the newest GPU, regardless of the model."
Comms and swarming
For users operating multiple uncrewed systems in the air and on land, Eurolink currently offers UXV Technologies' GCSs and its own common GUIs as a means of seamlessly switching between monitoring data from different vehicles. The UXV stations' ruggedness is cited as a particularly strong draw for Eurolink, and its modularity in radio integrations enables a wide range of data links and up to four comms channels at once, so one operator can theoretically be in the loop with four vehicles at a time.
Remiddi adds, "As we use this common ecosystem of hardware and software across our uncrewed systems, we can move some AI capabilities from our Doberbot UGV [see UGVs Insight, page 66] to the Beluga. For instance, as the Doberbot can recognise when objects are moved or removed from a room it has been to before, we can import this 'change detection' to a UAV for similar use."
Eurolink's UAVs and UGVs can also share common information in real time, for example in surveying outdoor areas for vehicle movements or even indoor areas, should the end-user choose to operate a Beluga through corridors, which is possible owing to the AI's visual odometry and obstacle avoidance. As well as performing security missions, the Beluga's computer vision can recognise fire using EO imagery, meaning that the EO-only payload can be used in fire surveys without the need for an IR camera's cost, weight, or power consumption. "The change detection capability can be used in mapping as well," Lapiana notes. "Consider the recent devastating earthquake affecting Turkey and Syria, where much of the land will have changed and countless buildings have been damaged. A change detection AI for quick analytics could rapidly output GNSS coordinates with the highest concentrations or most severe instances of building damage.
"Along with the other modular systems, we've put multi-standard comms interfaces inside the UAV as well, to enable 4G, 5G, LTE and satcom, because we don't know for sure what comms network and infrastructure an end-user will want. We're quite certain though that they will need persistent BVLOS connectivity, whether that's through satcom, local GSM systems, or repeaters."
To that end, Eurolink tends to install Microhard radios in its standard-issue Belugas, although it is open to other radios should other standards elsewhere require it. For example, if a MANET approach is requested for interoperability under NATO standards, then other compatible radio models can be selected and integrated.
Future Plans
Eurolink now plans to continue expanding its range of uncrewed product offerings. One of the first on its list is a tethered version of the Beluga, for powering and operating the system from a moving vehicle such as a truck or SUV, or from a hangar or box station as a resident inspection system.
Lapiana suggests the latter application might be of interest to markets with assets prone to fires breaking out, such as industrial installations or forests in hot regions. He says, "We are in contact with one company in the US for developing a drone box-type station for the Beluga." The company is also planning a fixedwing version of the Beluga that will be capable of VTOL-transitioning between horizontal and forward flight, covering extended ranges and even higher airspeeds for missions such as delivery or airborne survey jobs.
"After that, the final version of the Beluga is going to be a UUV," Lapiana says. "That will take some rounds of new research, to make sure we're proficient in designing underwater propellers and flooded hulls, but it's what some customers are interested in, and it feels right to us that our Beluga will one day return to the sea."